This year has been filled with ups and downs for companies and employees alike. While some companies are hiring like hotcakes again, others are suffering layoffs or budget cuts due to economic uncertainties. Honestly, it's a bit challenging to keep up with the ever evolving nature of the economy and the employment landscape but I know as a People Leader that in order to survive I have to know what to plan for next.
It's times like this when I wish I had a crystal ball, but since I do not, I will have to settle for discovering trends that I'm seeing in the people space that can help me to devise my strategic plans and set my priorities for the rest of this year and into 2024. Right now I discover trends by connecting live with other People Leaders to talk about what they are experiencing, I listen to podcasts like Ashby's Offer Accepted, The Modern People Leader, and #Worktrends, and I am constantly reading articles about Workplace that pique my interest. Out of all of those wonderful places for information, I have distilled down my top 5 trends that I think are going to help shape the PeopleOps space over the next year.
1. Hybrid work is here to stay
Companies have adopted a hybrid work approach over the past few years to offer employees flexibility and autonomy to choose where they work their best. This can lead to higher levels of motivation and productivity from employees. However, in recent months companies have been re-evaluating their office situation and deciding if they will require employees to come back into the office a certain number of days a week or if they will continue to let the employee decide. To me, the smartest companies are not going to risk losing the institutional knowledge that remote employees have by mandating that they move so they can be closer to an office.
Driving hybrid work was the notion that working from home is more productive than being in an office and most people want to work from home. I wanted to dig in more into this trend so I was reading an article from the Economist that stated working from home is not more productive after all, a statement that did go against my personal experience of working from home. However, after continuing to read the article and drilling down into the sources that the Economist article links to, the research still seems to be mixed or incomplete to determine in what circumstances working from home can be productive. I first read the article from my phone through the Facebook app and I have to say, I think I enjoyed reading the comments to the article as much as I enjoyed reading the article itself.
Because companies are still forming a path forward for return to the office and experimenting with different hybrid work models there is no doubt in my mind that anyone who is in the Future of Work will be talking about and reevaluating hybrid Work models for years to come, for me this will not just be a trend over the next year but for the next 10 years.
2. Candidates prioritize mission over money
Over the past few years, I have started to notice that applicants are opting to become part of organizations primarily due to a strong resonance with the company's overarching mission and purpose. My conversations with candidates talking about all of our cool perks have shifted to what the company does, why the company wants to build what they're building, and how having them join the company will play an impactful role in helping our mission succeed. This isn't just something that I have personally seen. Glassdoor did a survey of 5000 respondents and 79% said that they would consider a company's mission and purpose before applying to a role. In addition, the Lever 2022 report on mobility and retention has Gen Zs stating that they would rather be at a company with a sense of purpose than if it paid more.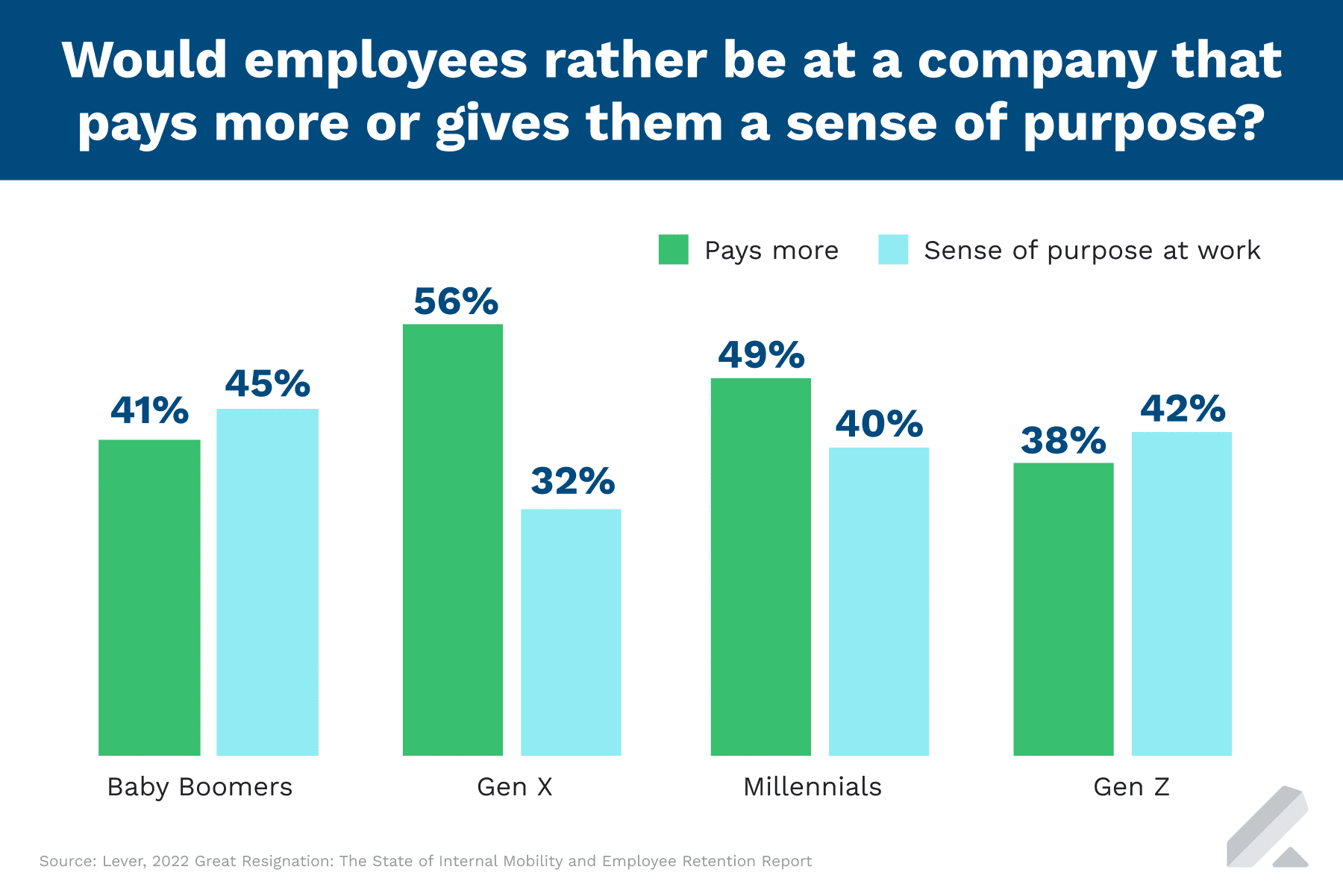 In 2030 30% of the workforce will be Gen Z. This talent pool is more socially conscious and motivated by a sense of purpose, opting for roles where they can make a direct impact over a bigger paycheck. Companies should follow this trend closely and start the process now of rethinking how to define and vocalize a mission and value that resonates with the applicants to come.
3. Having a grow-your-own mentality
Because of the unstable employment landscape, employees are opting for alternative ways to grow their careers. While some might have taken a linear path in the past, now employees are exploring other opportunities within their current organization. Some managers whose teams were affected by a reduction in force were able to advocate for their direct reports to repurpose their skills and gain success within other departments. According to Lever's 2022 Report on Internal Mobility and Retention, "Gen Zs (56%) are the least likely to say their company provides the opportunity for upskilling and reskilling, compared to Millennials (73%), Gen Xs (62%), or Baby Boomers (61%)."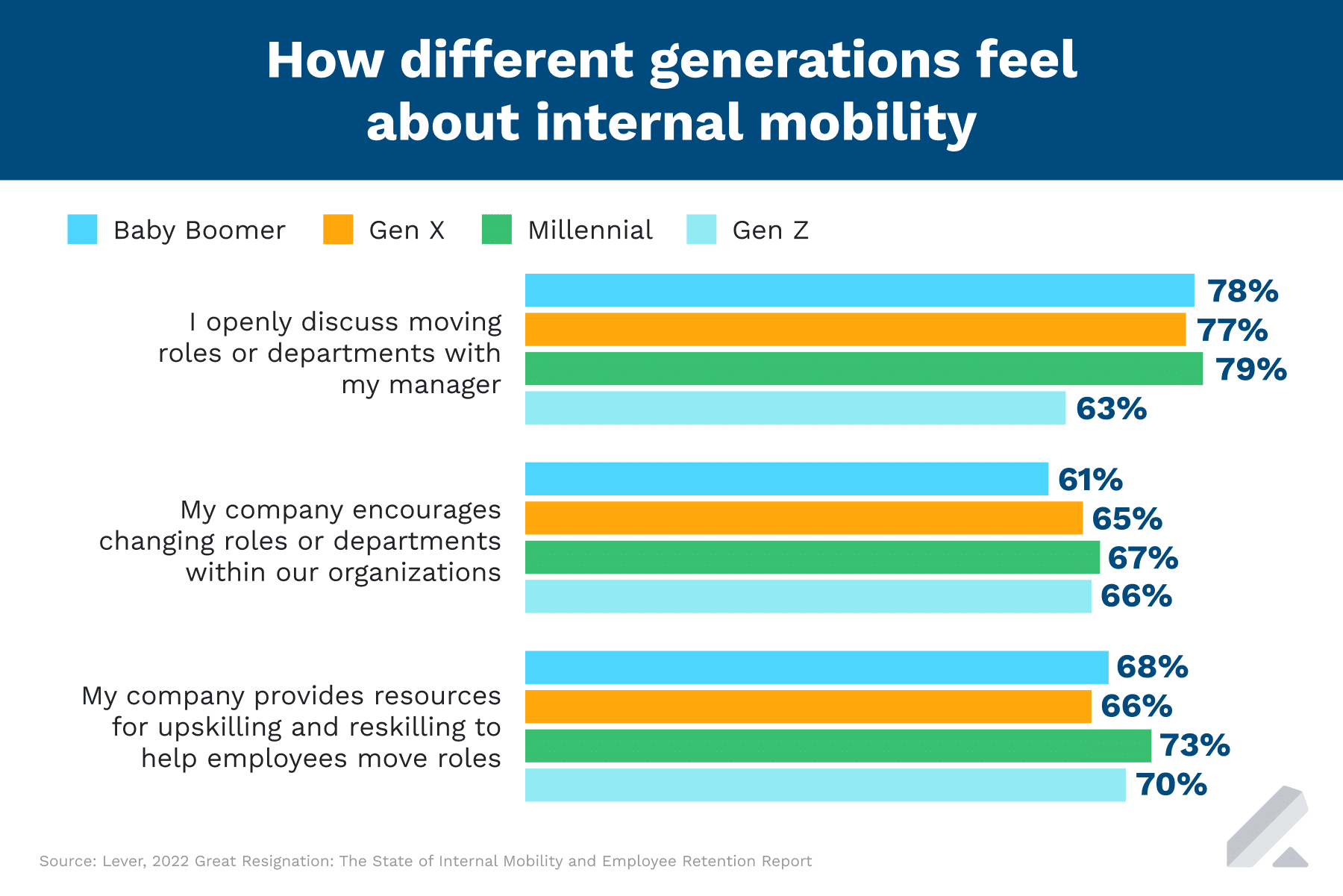 To support this trend moving forward companies can develop internal mobility plans by focusing on the skill development of their current team, offering additional training and learning & development programs to up-skill and re-skill their current workforce. Managers can talk with their team about skills, goals, and other interest areas to uncover other opportunities for internal movements. When budgets can be tight and companies can not afford to pay for external knowledge, having a grow-your-own mentality can be just the way to go to fill the critical skills gaps on the team.
4. Companies will have more transparency and clear targets when it comes to DEIB
I have the pleasure of speaking with dedicated DEI leaders in my network quite a bit and one thing that we were recently speaking about was how they are increasing the level of accountability and transparency between employees and members of leadership. Over the last few years, employees have been encouraged to get involved with DEI efforts and we have seen budgets rise accordingly.
Many companies have recognized that helping someone to feel like they belong and that they are valued will lead that employee to being a more engaged and productive member of the team. We have seen a ton of movement on this topic when we think about pay equity and transparency and I predict that we will continue to see companies invest in pay transparency for years to come, but in addition to compensation, companies will also look at other policies like child care assistance and building out dependent care FSAs to support the growing sandwich generation. Companies will factor all of this in when they start to focus on how they can implement clear targets and a transparent diversity strategy.
5. More fractional HR roles
I can speak from personal experience but also from talking with many colleagues in the space that HR professionals are burned out. According to Executive Networks' 2023 Future of Working and Learning report, HR leaders were the most likely to leave a company in the next 12 months.
While some have opted to leave the profession, others are finding a new spark by taking on fractional HR roles. Companies, especially smaller startups who need to establish more structure around their policies, programs and culture are starting to see the benefit that having a person in a fractional HR position allows. Companies that may not be able to afford high level talent full time can gain this expertise on a project basses and turn the dial up or down as the business needs evolve.
To me, having the ability of fractional HR is a win-win and a trend that is here to stay. Companies can identify their biggest needs and have an expert to help without breaking the budget on a full time hire, and HR professionals can continue to do work that excites them but on their own terms and in most cases with better boundaries and level of flexibility.
Key Takeaways
Hybrid work models are enduring, requiring companies to form a strategic approach to in office and remote work.
Organizations with a strong sense of mission appeal to Gen Zs and other candidates who place a higher value on purpose than on financial incentives.
Internal mobility is gaining traction as employees seek diverse growth opportunities within their current companies.
It is increasingly common for companies to adopt practices such as pay transparency, ensure pay equity, and establish well-defined DEI targets.
Fractional HR roles offer a win-win solution, providing specialized HR expertise on a flexible basis while easing professionals' burnout.
Learn more about our Author: With a master's degree in Opera, Jen Paxton didn't think she would have a career in Talent Acquisition or PeopleOps, however, she fell in love with helping candidates find the right role. She started her career at JobSpring Partners placing technical professionals then moved on to Robert Half before deciding to move to an in-house recruiting team. She has grown teams at later-stage startups like Fiksu and LevelUp and built Recruiting and PeopleOps strategies from scratch at small startups like Logentries, TrueMotion, Privy, and Smile. She took a slight detour from her usual Head of People roles to Co-Found a video content platform called Jamyr which was recently acquired by Recruitics. She has been a part of four successful acquisitions and almost all of her companies have won "Best Place to Work" awards at least once while she was there. She loves coaching managers, fostering a feedback culture, and building programs that will help develop a sense of belonging. In addition to her career, Jen is a mom of two girls, loves being outdoors, eating tacos, and drinking her weight in loose-leaf teas.
*Disclaimer: This post was not generated by A.I. It is indeed written by a real life human. A pretty cool human in fact.